Contact Us
monty@salida.com

Travel Colorado - Outdoor Recreation
The Salida area is famous for an abundance of outdoor activities and these play an integral role in the area's character and economy. Visitors from around the world as well as the local inhabitants revel in the opportunity to enjoy a full four seasons of outdoor recreation. Given that this area hosts the largest quantity of the nation's 14,000 foot peaks, not only are there spectacular views, but the opportunities for natural outdoor entertainment seem endless.
Chaffee County is widely known for its rafting, kayaking and fishing. The sole reason rests with the Arkansas River, a waterway that originates only 60 miles north of Salida and which generates a multitude of rapids as well as provides countless fishing opportunities for anglers. The West's reputation for the finest trout fishing in the United States began in the Rocky Mountains region and has its heart right here in the Fourteeners region. Although this area is famous for its first-class fly fishing, especially during the spring caddis hatch, thanks to the region's mild climate, anglers can ply the valley's river and mountain lakes throughout the year. As a result of this mother lode of river activities, the summer season draws visitors from around the world to partake in these riches.
In addition to water sports such as rafting and kayaking, there are tremendous hiking opportunities and lots of camping sites in the area. This is to be expected in a region hosting the most 14,000 foot peaks in the Continental United States. The 14,000 foot peaks attract mountaineer enthusiasts from around the world and the wealth of trails, including the Colorado Trail and the Continental Divide Trail, lend themselves to everything from extended packing trips to easy day hikes with the family.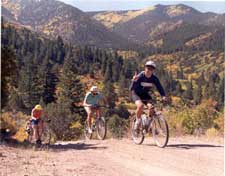 In recent years mountain biking and road biking have grown both in popularity and stature. The spectacular scenery, variety of terrain and trails, and a mild mountain climate combine to make the 14'ers region one of the top mountain biking centers in the West. Salida is a popular stopping point for Ride Across America and Ride the Rockies and plays host to numerous Bike Festivals and races including the Banana Belt Mountain Bike Loop Race.
Those opting for less strenuous activities can go golfing, rock-hounding, or can visit the fascinating ghost towns located just a short drive from Salida.
Golfing fanatics and amateurs alike will enjoy a relaxing sun-drenched day amidst spectacular views at the Salida Golf Course. The nine-hole course is open to the public.
Rock hounding enthusiasts and prospectors can dig for gems of many kinds on 14,269-foot Mt. Antero, world-famous for its aquamarine crystals, or hunt for garnets and other crystals on Ruby Mountain.
Due to the area's rich history of mining, many of the West's best known ghost towns are in this region, including St. Elmo, Turret, Winfield, and Vicksburg. They are a must see.
Since Salida and the surrounding area was once thoroughly entrenched in mining activities there now remains an elaborate system of old mining roads and trails that not only lead to interesting abandoned mines but also provide ATV and Four Wheel Drive enthusiasts enough to do for years and years.
After all of these exhilarating activities, some rest and relaxation may be needed. This can easily be accomplished by a long, warm soak in one of the area's natural hot springs. Salida and the surrounding area are blessed with several natural hot springs pools. The Salida Hot Springs Swimming Pool, Mt. Princeton Hot Springs Resort or Mineral Hot Springs Spa are the three most popular spots to soak. All of these spas have natural, crystal clear mineral water. This "activity"—or really, lack-of-activity—is the key to rejuvenation after a day in Colorado's Rocky Mountains.

See what others have to say about Salida.