Contact Us
monty@salida.com

Salida Colorado Arts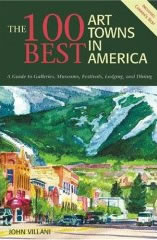 Many visitors who stroll through Salida's historic downtown with its beautifully restored brick buildings, diverse culinary venues, and art galleries that range from funky to refined are surprised when they learn that this business district was almost abandoned in favor of chain stores and strip malls. Back in the 1980s, serious consideration was given to making way for "progress" by razing some of the downtown's historic brick buildings, and in their place, constructing more modern facilities. Fortunately, the trend toward strip mall development was circumvented and an emphasis on historic preservation took root. Because of these efforts, the modern-day mountain community of Salida boasts a downtown area that is the largest historic downtown district in the state of Colorado.
In the process of attaining this distinction, Salida has become home to a large and still growing artist community. And, it is a community whose profile extends beyond the confines of the region, with many of Salida's artists having national recognition in their respective fields.
It is not only these artists and their galleries that make this town an end destination for those seeking some "culture" in the Rocky Mountains, but it is also the thriving performing arts that give the town a reputation as one of the best art towns in the USA. Salida's painters, potters, jewelers, and sculptors coupled with its Stream Plant Theater, Salida Aspen Series Concerts, Alpine Orchestra, and summer festivals makes this town on the Arkansas River a diverse and thriving art community. With so much creative energy and an inspirational setting in the Rocky Mountains, art will no doubt continue to thrive and help to further define—and refine—the mountain town of Salida.




See what others have to say about Salida.